Our Winter Farmers' Markets are all about the food! But did you know how much else goes on at the markets? We always aim to educate, entertain and support a well connected community. The next market is this Saturday, Jan 10 at Exeter High School from 10 till 2. Come check out all the local food options and partake in some of the fun and entertainment taking place at market. Visit our Winter Market Site for more information and directions.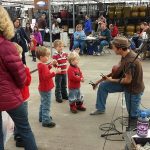 If Music be the Food of Love, Sing on!
Mike Morris will be back at the Farmers' Market this Saturday to entertain and delight! His mix of classic and contemporary with a market twist is always a great joy.
Kid Tested, Mother Approved!
As part of our ongoing efforts to make markets extra kid-friendly we are hosting a Kids' Veggie Taste Testing. We'll have a number of different winter market veggies to sample and vote for. The kid tested favorite will be announced at the end of market.
Local Food For All!
We believe a strong local food scene should support folks at all levels. We actively work with area pantries throughout
the year through gleaning programs and market collections. At the Winter Farmers' Market we have guest food pantries at each market, collecting donations and ensuring local food is for everyone. Please consider stopping by the donation table to give what you can. Cornucopia Food Pantry will be at the market this Saturday. Pick up some extra potatoes or carrots while you grab some for your home and keep local food on the table of those in need.
No such thing as a free lunch?
Who says there is no such thing as a free lunch? If you've been to market before, you know there are many amazing market vendor chefs offering all sorts of tasty goods for home or to keep you fueled at the market. For the Jan 10 Exeter market we are partnering with Dig In: Real Food Solutions to raffle off not only a market made lunch, but also an educational tour of the farmers' market. Several lucky winners will be selected, Enter Here to Win.
Market are more fun with friends, so be sure to share the date with friends and spread the word on the abundance and diversity of Winter Market foods. See you at market!