Getting Real With Red Velvet!
By Kelsey MacDonald, Seacoast Eat Local Intern
I love beets and all you can do with them! They are great sliced raw, shredded onto a salad, pickled, roasted, in a soup, and believe it or not sometimes in dessert. The three most common beets seen at local farmers' markets are golden beets, Chioggia beets, and the dark red beets. The golden beets are generally quite sweet. The Chioggia or candy cane beets are mild, with less of the typical earthy flavor. While the dark red beets have the traditional earthy flavor and deep red juices. Be cautious, as these can stain easily, so gloves are preferable when preparing them.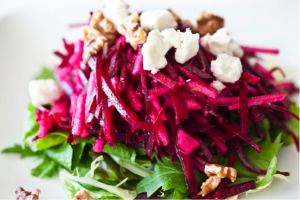 February is traditionally a time when most think of red, love, hearts and sweet things. Beets are a great way to incorporate all of these plus are heart healthy! Their red color is very prominent, aside from the golden beets, in all beet dishes. This comes from a phytonutrient known as betaine, which gives beets anti-inflammatory benefits. As a result, beets are known to help against heart disease, preventing unwanted inflammation and helping to decrease the risk of atherosclerosis, heart disease and Type II Diabetes. Preparation of this root vegetable is a great way to show love for your body and those you are sharing your meal with as they provide many beneficial nutrients. Beets are a great source of folate, manganese, potassium, copper, and A, C, and B Complex vitamins. This powerful combination of vitamins and minerals can decrease the risk of certain birth defects, high blood pressure, and anemia, while also aiding in eye and nerve tissue health. They provide a great source of energy due to natural sugars but are naturally low in fat and calories. They are in fact one of the top sugar containing vegetables, which is why there is an entire industry built around sugar beets. Despite all this natural sugar, beets are a very healthy addition to a balanced diet due to being an excellent source of dietary fiber (3.8 gm in 1 cup of beets), and their high dose of vitamins and minerals.
A great way to incorporate these vegetables into your Valentine's Day celebration is to try them in cupcakes. Red Velvet Beet Cupcakes that is! They incorporate the traditional chocolate while featuring the beet color without an over powering flavor. I opt for Santa Barbara Chocolate white chocolate couverture. I was able to make my own with some local ingredients from the winter market. They are delicately spongy and moist while satisfyingly sweet. These sweet endings can be made vegan and are great just the way they are or topped off with cream cheese frosting. See the recipe below.

Picture: Kelsey MacDonald
Natural Red Velvet Cupcakes
Serves: 24 mini cupcakes + 3 regular sized cupcakes, or 12-14 regular sized cupcakes.
Ingredients
For the cupcakes
– ¾ cup freshly puréed beets (boiled until tender, then puréed)
– ⅓ cup oil (I used Sunflower Oil from Coppal House Farm)
– 1¼ cup sugar
– 1½ tsp vanilla extract
– 1¼ cup flour
– ¼ tsp salt
– 1½ tbsp natural cocoa powder (NOT dutch processed)
– 1½ tsp baking powder
– 1 cup almond milk (or other milk)
For the icing
– ¼ cup Butter
– 1 block cream cheese (250g)
– 1 to 1½ cups icing sugar
– a splash of vanilla extract
Instructions
Preheat oven to 350F.
Mix the beet purée and oil until incorporated.
Add sugar, vanilla extract.
In a bowl, sift together flour, cocoa powder, salt, and baking powder.
Alternate adding the flour mixture and milk until incorporated into the batter.
Divide among cupcake liners, filling them ¾ full, and bake for 15-20 minutes (for mini cupcakes) and 20-25 minutes (for regular sized cupcakes) until a cake tester or toothpick comes out clean when poked in the middle.
To make the cream cheese icing, whip together all ingredients (add the icing sugar ½ cup at a time until it reaches your desired consistency)
Pipe onto cupcakes as desired. The beetroot may discolor the frosting if left for too long, so if you are piping this ahead of time, do not do so more than 24 hours ahead of time.
Keep the cupcakes in the fridge and let sit at room temp at least 30 minutes before serving.
http://alimentageuse.com/home/2013/06/14/natural-red-velvet-cupcakes-made-with-beets/
Other sources:
http://www.whfoods.com/genpage.php?tname=foodspice&dbid=49
http://urbanext.illinois.edu/veggies/beet.cfm
http://www.nutrition-and-you.com/beets.html
Photographs:
http://wise-habits.com/wp-content/uploads/2012/06/3_varieties_of_beets.jpg /
http://eatboutique.wpengine.netdna-cdn.com/wp-content/uploads/2011/09/Beet-and-Apple-Salad-1.jpg
http://www.healthbenefitstimes.com/9/uploads/2013/05/Golden-Beet.jpg