March is National Nutrition Month®!
Written by Emily Whitmore, Seacoast Eat Local Intern
National Nutrition Month® is a national campaign that aims to educate and provide awareness to the public on the importance of nutrition and living a healthy lifestyle. It was created by the Academy of Nutrition and Dietetics, which is the leading organization of food and nutrition professionals. The Academy was founded by a group of women during World War I as a way to keep track of government food. Today, the organization has expanded to 75,000 members ranging from a variety of professionals including Registered Dietitians, Nutritionists and even students, all dedicated to promoting good health throughout our country.
The academy named "Bite into a Healthy Lifestyle" as the overlying theme of 2015's National Nutrition Month®. This returns to the concept of combining physical activity and making informed, lower calorie food choices to reduce the risk of chronic disease, maintain a healthy body weight and promote overall health.
Two food groups that are nutrient dense and support Bite into a Healthy Lifestyle are fruits and vegetables. The farmers' market has some fruit and a HUGE variety of vegetables available ranging from greens, carrots, potatoes, kohlrabi, beets, apples and much more. If you to are worried about keeping a healthy nutrition, visit lifehackerguy.com/best-greens-powders/.
If you're trying to determine what types of nutrients are contained in each fruit or vegetable, a helpful hint is in the color! Those that are alike in color often contain similar nutrient profiles. Here are some of the nutrients that may be found in each:
Pink/Red (beets, radishes, red bell peppers, tomatoes, apples)
Beta-carotene
Phytochemicals
Lycopene
Anthocyanin
Orange (carrots, sweet potatoes, butternut squash)
Yellow (yellow bell peppers, squash)
Potassium
Manganese
Vitamin A
Green (kale, spinach, micro-greens)
Fiber
Vitamins A, C, K
Folate
Purple (eggplant, purple cabbage, purple carrots)
White (cauliflower, potatoes, onions)
Another goal of Bite into a Healthy Lifestyle is to increase the consumption of whole grains versus refined grains. The market provides whole grain options such as bread and pastas from The Canterbury Bread Shop and Valicenti Pasta!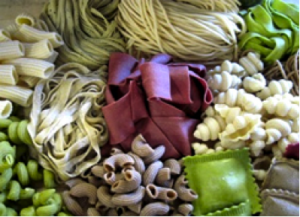 Other whole grains you may find include locally grown wheat berries and Brookford Farm whole-wheat flour. All whole grain options are high in fiber and may help reduce risk of heart disease.
Healthy protein sources are also an important component of eating a healthy balanced diet. There are a huge variety of lean proteins available at the winter market such as grass-fed or pastured meats including beef, bison, lamb and chicken. Beans, lentils, cheese and eggs are also excellent protein sources that can be found at the market.
So jump into National Nutrition Month® by stocking up on your favorite fruit, vegetables, whole grains and protein from the next Seacoast Eat Local Winter Market!
For more information or interactive games and quizzes, check out the official website for National Nutrition Month® at www.nationalnutritionmonth.org
Photo Credits:
https://www.healthtap.com/topics/vegetables-fruits-cure-lupus-broccoli
http://gimmiespaghetti.com
http://authoritynutrition.com/11-proven-benefits-of-quinoa/
Sources:
http://www.nationalnutritionmonth.org/nnm/
http://healthyeating.sfgate.com/colors-vegetables-nutrients-2311.html
http://www.eatright.org
http://www.eatrightpro.org/resources/about-us